Protecting Business Continuity with 100% Hardware Uptime
Minimizing network downtime and service interruptions is often a high priority for IT department. Regardless how reliable your network systems being designed, hardware failure can still bring down your network or your services. Implementing High Availability (HA) for IT infrastructure is a useful strategy to mitigate the impact of hardware failure.
>  High Availability via VRRP

In Q-Balancer High Availability, the primary and the secondary appliances are installed in parallel. These units are in constant communication, and so the secondary will be able to instantly detect whether the primary is available or offline. The secondary will automatically take over network traffic in the event the primary appliance turns unavailable. This provides timely backup and nearly 100% uptime for business network in case the hardware failure occurs. Q-Balancer HA ensures enterprises networks to stay connected with its ability of fault tolerance for unexpected hardware failure. For the planned downtime like system maintenance, the impact will definitely be reduced.
Transparent Deployment
To deploy new network devices in an enterprise network is challenging as it might involve changes to legacy networks. Of course, it will be much easier if the installation goes without making any changes to the existing network devices.
>  Multiple Transparent Bridges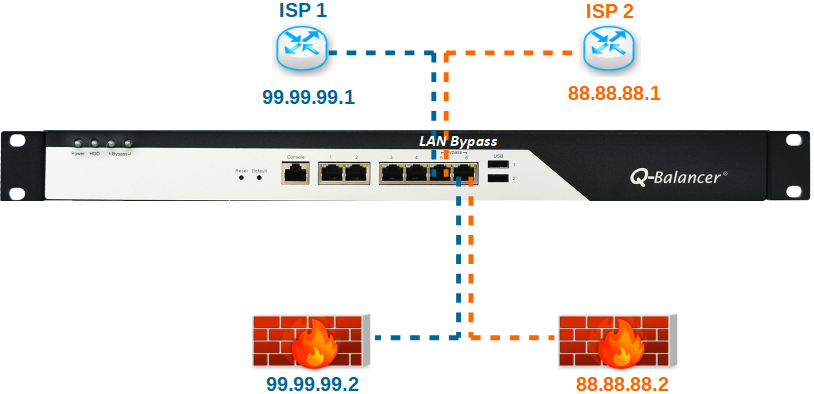 The feature of transparent bridge simplifies the installation as it enables the appliance to transparently and seamlessly work with the legacy devices such as routers or firewalls. With transparent bridge, the appliance acts as a layer 2 bridge between network devices (core switch, router, or firewall), and thus is transparent to the legacy network devices. This means that the configuration on the legacy firewall does not need to be changed for the installation. The deployment works as if the appliance were sitting transparently between the router and firewall.
In the event of, for example, power outage on the appliance, LAN Bypass will safely and automatically bypass the appliance to remain the original network connections. In transparent bridge mode, you do not need to reconfigure your network as you only need to place the appliance in the network path(s) that you plan to balance.; if you intend to take the appliance offline, you do not need to reconfigure your IP network either. Therefore, the risk is obviously reduced due to the transparent mode function. The networks of large organizations might have the requirement, where multiple bridge subnets are needed; the appliance is able to work for multiple bridge subnets with a pair of LAN bypass.
Built-In Remote Access VPN
Enterprises today are aiming at offering accessibility to comprehensive resource and information no matter where their users are. For the users on the road, remote access VPN is helpful as it grants them the secure access to business resources.
>  Road Warrior VPN

To let remote users securely connect to corporate information and resources, Q-Balancer appliance supports three types of remote access VPN services, IPSec, L2TP over IPSec, and PPTP. These VPN access provided on Q-Balancer allows remote users to use the native VPN client software integrated in the operating systems, which can be iOS, Android, Windows, etc. This makes remote access much easier.

Link Aggregation
LACP (Link Aggregation Control Protocol) is a layer 2 protocol that provides functionality when aggregating one or more Ethernet interfaces to form a single logical link (link aggregation groups). The bond interface share the load among many interfaces, which gives fault tolerance and increases throughput.
>  LACP NIC Bonding

Q-Balancer LACP combines multiple ports/links between the appliance itself and switch to provide higher bandwidth links between them. Additionally, ports that are LACP enabled can automatically configure themselves into trunk groups, without any manual configuration/intervention. LACP automatically is able to add/delete individual links to the aggregate bundle, while adding new links and also after recovering from link failures. Q-Balancer LACP provides redundancy in case of an interface or a link failure. When one of the interfaces is down, the connection automatically fails over to the remaining active interface. When all interfaces are working fine, traffic is distributed across all all interfaces to achieve maximum throughput. An expensive physical network upgrade can so be prevented as Q-Balancer LACP increases bandwidth without requiring new equipment.
Click for LACP NIC Bonding Configuration >>
Logging & Reporting
Logging and reporting are critical components in any enterprise network. The ability to collect necessary network activity in a logical, organized and easily segmented way makes logging itself valuable. Reporting shows the recorded activity in a more readable format. Logging and reporting are useful components to help IT understand what is happening inside the network.
>  Logging & Reporting

Q-Balancer is incorporated with logging system that logs online activities on the network, plus, its reporting system provides readable information that enables IT team to analyze online users activities within organizations. The reporting system gathers all the log information required, then presents it in a graphical format, and automatically generated charts showing what is happening on the network. Reports can be generated on Q-Balancer appliances. Sample Report >>