Temporary projects or business venues may find MPLS service is sometimes unavailable or perhaps cost-prohibitive, or takes long time for installation. With many major enterprises operating outdoor or expanding into new territories, those limits are unacceptable and should be overcome in business world today.
Providing temporary projects with 4G LTE connectivity

Business operations today are highly dependent to internet connectivity especially when they have the need to operate outdoor permanently or temporarily. An agile, reliable, and secure network connectivity is crucial to them, while landline might not be available in the pop-up or temporary network locations. Enterprises need to find a way to  instantly build a better WAN. The ability to quickly scale up or down new pop-up networks in diverse regions can be a strategic business advantage for enterprises. These pop-up stores or temporary project scenarios require fast and robust internet connectivity.

Problems to be solved:
>  Unavailable wired WAN connectivity
>  Secure and fast internet access
>  Budget concern for satellite and microwave services
>  Poor video transmission caused by lack of bandwidth, jittering, and packet loss
>  Physical IT presence for all locations
>  Possible security threats

Solution: Cellular Bonding & Failover
>  Leveraging multiple mobile internet connections without spending weeks or months on waiting for a landline
>  Combining bandwidth of cellular 4G LTE lines to increase overall WAN throughput capacity
>  Adding, configuring, and managing new devices to a pop-up network through centralized management system without sending IT experts on site
>  Protecting network against security threats with inbuilt stateful firewall
>  Offering data protection through military-grade tunnel encryption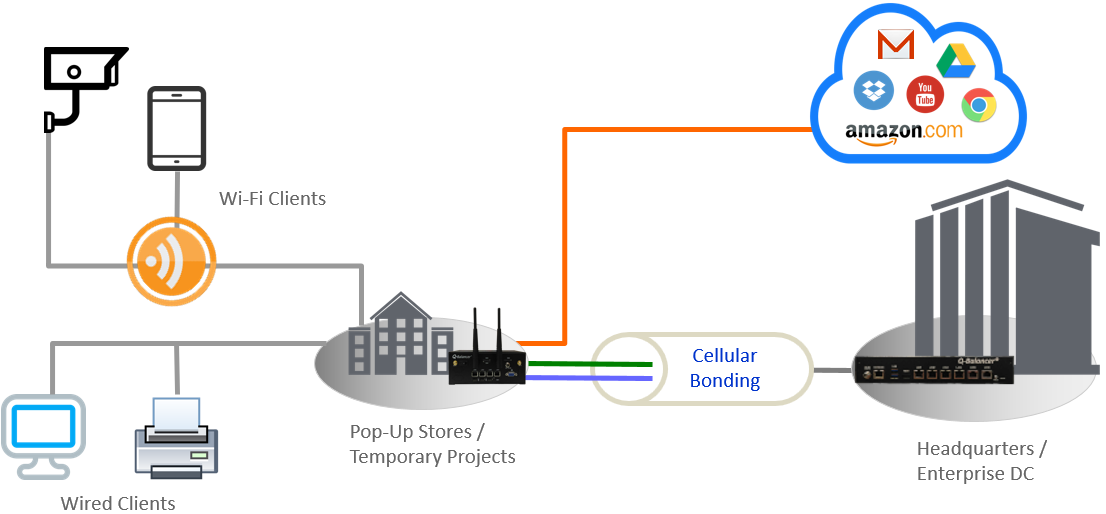 Cellular Bonding & Failover

In the diagram illustrated above, a Q-Balancer Mesh devicee at branch network is connected with multiple 4G LTE connections, while the other Q-Balancer device at HQ/ data center connects a high-speed Internet. The devices at both HQ and branch locations work together to aggregate the 4G LTE internet pipes at branch locations. In the event of link failure, the branch device diverts traffic to the remaining active path(s) without sessions dropped.

With the technology of cellular bonding, Q-Balancer offers enterprises an undisrupted network backhaul as it is able to to efficiently distribute packets across all available internet connections. The technology also enables branch offices to flexibly employ a combination of wired and wireless broadband WAN technologies. This provides branch offices a highly resilient and scalable network connectivity with a very little lead time. When the demand grows, enterprises can flexibly choose the links to add for more bandwidth.