Next-Generation WAN Load Balancer
Q-Balancer appliance is a next generation multi-WAN gateway solution that guarantees continuous connectivity for enterprise and cloud-based applications by load balancing and optimizing both outbound and inbound traffic across multiple WAN links. Q-Balancer appliance is incorporated with a variety of advanced network features, enabling enterprises to take full control of their WAN networks.
Unlike the traditional NAT-based link load balancing solutions, the WAN load balancing capability of Q-Balancer comes with application-awareness to ensure unbreakable connectivity and service level availability for corporate and cloud-based applications. Q-Balancer appliance is able to classify applications and route or distribute traffic across a variety of Internet connections based on business policy, and so helps enterprises effectively harness multi-cloud networks.
Q-Balancer appliance transforms inexpensive broadband connections into an enterprise-grade WAN. Better application delivery can be achieved with its ability of intelligent traffic steering, which works in conjunction with application-aware routing, dynamic path selection, and path monitoring to provide desired performance for applications.
Physical Appliances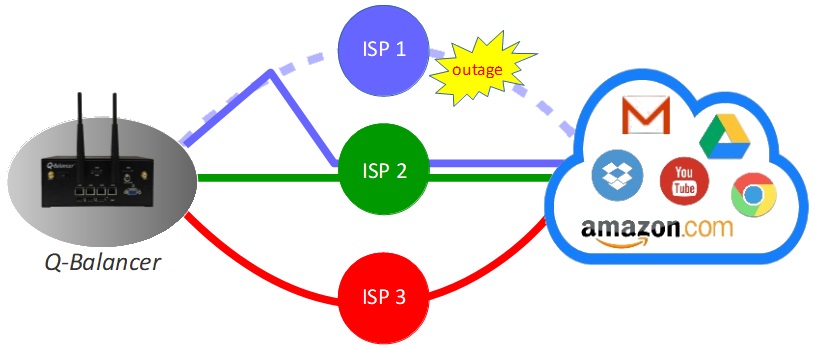 Deployment for WAN Load Balancing
| | |
| --- | --- |
| | QB-2000 is designed for educations, large enterprises and data centers, and supports up to 52 WAN links and up to 20 Gbps throughput. Large organizations can employ QB-2000 to increase WAN reliability and speed, while in a distributed network QB-2000 can function as a headend gateway, which ensures network connectivity and application delivery for the entire networks. |
| | QB-500 is designed to bring high network reliability and performance to medium and large-sized enterprise and regional data centers. This 1U rack-mountable appliance supports up to 52 WAN links and up to 3 Gbps throughput. QB-500 protects business from any potential network failure and disruption. |
| | QB-300 is designed for small and medium-sized enterprises and supports up to 25 WAN links and up to 1.5 Gbps throughput. This 1U rack mountable appliance ensures connectivity while providing key features for enterprises including routing, firewall and bandwidth management. |
| | QB-300D is a low-cost version of QB-300, equipped with 6 x GbE ports, and in compact design with dimension (260×178×44 mm). This desktop appliance ensures connectivity while providing key features for enterprises including routing, firewall and bandwidth management. |
| | QB-150 is a compact design appliance for small and branch offices with higher bandwidth demand. The appliance supports up to 10 WAN links and up to 300 Mbps throughput. QB-150 comes with all-in-one features, and brings the benefits of low costs and high reliability. |
| | QB-MESH is designed to provide secure WAN access for pop-up stores and branch offices wherever they are, particularly for the locations where wired solutions are not available or costly. With its intelligent algorithms and industry-grade 4G LTE connectivity, QB-Mesh enables branch networks to stay connected as needed. |
Virtual Appliances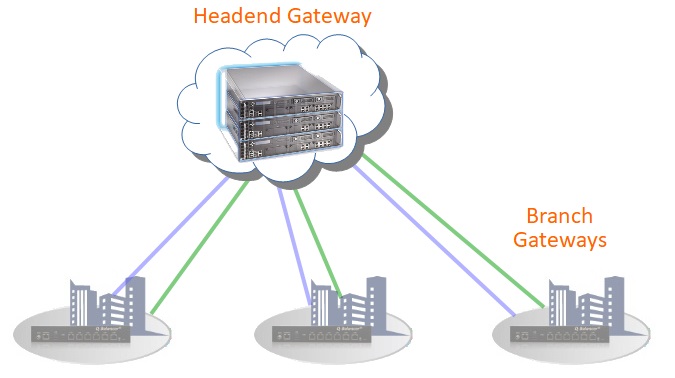 Virtual Appliance for Headend Gateway Deployment
| | |
| --- | --- |
| | QB-V2000 is a virtual appliance running on VMware vSphere virtual server, and provides same functionality as the physical appliance of QB- 2000. QB-V2000 is designed for educations, large enterprises and data centers, and supports up to 52 WAN links and up to 20 Gbps throughput.  |