MPLS was designed for enterprises to access data center or applications at headquarters. With offices geographically spread all over separate locations, enterprises commonly choose MPLS network to connect their offices at different locations. Therefore, their staffs can work, communicate, and share information easily, instantaneously, and effectively.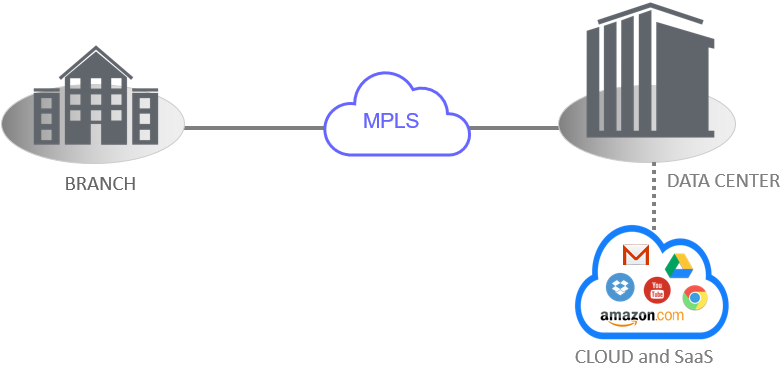 Traditional MPLS Network


Enterprises typically backhaul traffic, including cloud-destined traffic, to their data center at headquarters or to regional hub sites for advanced security inspection. When the aggregated traffic reaches the headend, it will be checked by firewall and then be directed to the cloud, e.g., software-as-a-service (SaaS) providers, as shown in the diagram above.

The traffic in and out of the branch offices all need to go through headquarters or to regional hub site. This means all traffic, including general web-browsing traffic or any traffic destined to public cloud, will have to go through network backhaul and consume the expensive MPLS bandwidth. This design of legacy network is not addressing the performance challenges of cloud applications.

Organizations are increasingly taking on a hybrid WAN approach, where broadband and MPLS connections are concurrently connected to branch networks. This hybrid WAN approach improves the performance of internet access by sending out the internet traffic via broadband connection, and saves bandwidth of MPLS for critical enterprise applications. However, there are still issues to be solved.
Problems to be solved:
>  No backup route for enterprise backhaul
>  Inefficient bandwidth utilization.
>  Performance of business-critical applications
>  Possible security threats
Solution: SD-WAN Network
>  Link redundancy from MPLS to Q-Balancer VPN
>  Virtually combining types of WAN links into a single connection
>  Load balancing traffic across all available links
>  Intelligently steering the critical applications to the best path
>  Protecting network against possible threats with inbuilt firewall or cloud-delivered security integration
>  Data protection through military-grade tunnel encryption.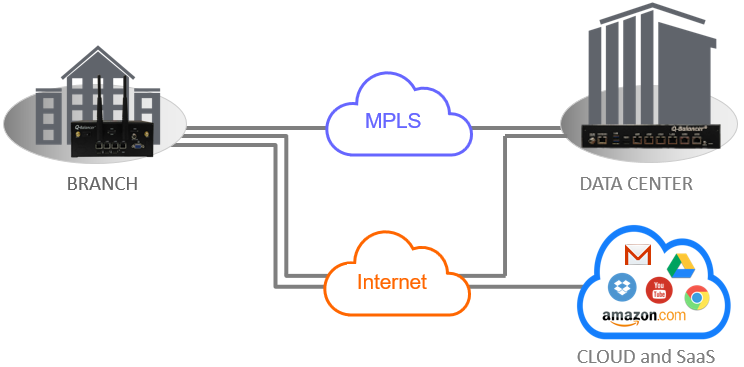 SD-WAN Network