Making the Deployment and Management for Branch Networks Easier 
Enterprises are increasingly becoming distributed across the globe as the number of branch offices are growing quickly, and therefore a secure and high-speed communication between offices is required while they are geographically dispersed. The types and number of required services at branch offices increase as branch business grows, which results in increased complexity and higher support cost. The requirement of the technical knowledge and skills are growing while branch services and complexity are increasing. The challenges of the increasing use of cloud applications, the growing demand for bandwidth consumption, and the requirement for better application delivery are faced by the enterprise with legacy WAN architectures.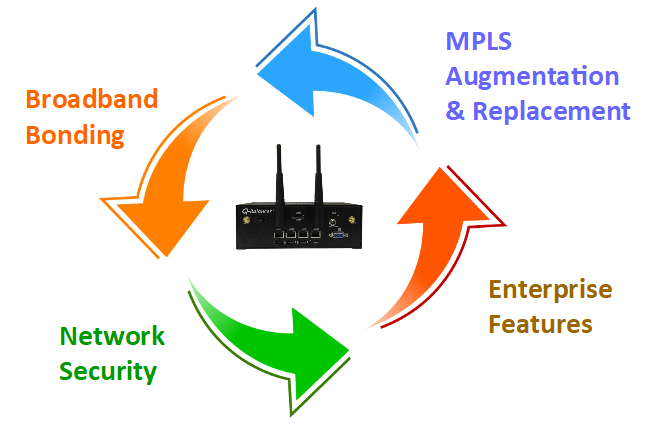 Q-Balancer solution consolidates multiple key features for SMEs and multi-location enterprises, including broadband bonding, MPLS augmentation & replacement, network security, and advanced enterprise features. These features are integrated into an all-in-one and easy-to-deploy appliance, which can be administered from a central location.
>  Branch Network Simplification
Q-Balancer appliance is an integrated network solution for enterprise that includes MPLS augmentation, overlay routing, VPN bonding, outbound load balancing, inbound load balancing, QoS, stateful firewall, IPSec VPN termination, DHCP, etc. With the support for popular routing protocols, the solution helps enterprise eliminate branch routers, and hence delivers a simplified deployment experience.
Q-Balancer reduces the reliance on expensive certified specialists as its configuration is simple and intuitive through the user-friendly user interface. It also reduces the reliance on hardware appliances like routers, DHCP server, firewall, etc. With its consolidated features, Q-Balancer lowers WAN cost and complexity for branch networks. Network services within the Q-Balancer SD-WAN products help enterprises with branch simplification efforts. The following key features are provided by the Q-Balancer solution:
Broadband Bonding– Q-Balancer broadband bonding enables enterprises to build their own WAN fabric with any combination of Internet service providers they choose. Whether the request is outgoing or incoming, the network is single-site or multiple-site, the broadband bonding provides enterprises with a faster and more reliable internet connection. The feature of broadband bonding is WAN agnostic and applicable anywhere in the world. 
MPLS Augmentation or Replacement– Through the feature, enterprise networks can be connected with types of WAN connections and let the appliance effectively distribute traffic across them without compromising the quality. 
Network Security– Through properly configuring its inbuilt security mechanisms, Q-Balancer appliance can work as a primary firewall, or simply work with the existing firewall solution. Q-Balancer delivers advanced security as a layer of protection to branch networks, while protecting business continuity against WAN outages. 
Enterprise Features– Q-Balancer products come with features that help IT meet various requirements of enterprises. The enterprise features include:
Multi-Path QoS

Bandwidth Reduction

Server Load Balancing

Gload Server Load Balancing

High Availability via VRRP

Multiple Transparent Bridges

Road Warrior VPN

LACP NIC Bonding

Monitoring, Logging and Reporting

Centralized Management